Singapore, 24 April 2018 – TabSquare, the leading In-Restaurant solution provider for the F&B industry, unveils the first ever Artificial Intelligence (AI) powered suite of smart in-restaurant solutions at the Food and Hotel Asia (FHA) Conference and Exhibition 2018. TabSquare's platform consisting of SmartTab, SmartKiosk and SmartWeb, are now powered by its AI engine - Aiden.
TabSquare's Aiden is the first of its kind AI engine to leverage the power of big data to streamline restaurant operations and increase order value. Guests interacting with one of TabSquare's AI restaurant ordering systems can now get highly personalised menu recommendations and promotions by simply entering their phone number or through a smart facial recognition option. The AI Engine enhances the guest's dining journey by constantly learning and building their taste profiles and preferences.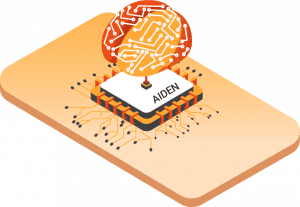 The pre-cursor to building deep learning AI applications is the availability of large datasets that are accurate and insightful. The restaurant industry is constrained by limited transaction data available from the Point-Of-Sale systems and the diner's preferences residing mostly in the waiter's mind. TabSquare, a pioneer in the big data space, collects over 30 million guest interaction and behaviour data points a month, which is then used by Aiden to power customised promotions for each guest, personalised menu experiences and higher profitability for restaurants.
"Traditional standalone solutions with backend dashboards are ineffective in the real-time consumer-first world. The application of AI algorithms in other industries has led to significant improvements, and recommendation algorithms when applied well can yield up to 35% increased sales. With the introduction of Aiden, TabSquare aims to bring the same enhanced profitability and experiences to the restaurant industry, delivering higher cross-sell and up-sell revenues." said Chirag Tejuja, Co-Founder and Director of Sales at TabSquare.
TabSquare's smart solutions are already used by millions of guests, and its data-driven approach to restaurant management and guest engagement has helped its partner restaurants gain higher average cover value, reduce labor costs, operate more efficiently, all while providing a better guest experience. The company fills the gap in the 'in-restaurant' technology space, which contributes to the largest chunk of a restaurants' revenues. The platform is built in with integrations to major POS systems and modern cash-less payment gateways that create a seamless dining experience at the diners' fingertips. This also means that you won't have to replace your POS to get started with TabSquare.
From large F&B chains to individual restaurants across various formats and concepts, TabSquare's AI-powered solutions give restaurants an edge in the competitive market. Currently, there are over nine thousand active TabSquare devices in the region, working with over 20 international POS and payment partners. The company has processed over 6 million orders, serving over 15 million diners whose dining journey will soon be enhanced by the power of AI.
TabSquare's SmartKiosk solution is a sleek, small-footprint mobile self service kiosk which offers smart personalised cross-selling and upselling opportunities for guests at restaurants, as well as a super-fast, sensitive interface for faster order turnover which increases profitability.
TabSquare's SmartTab becomes each customer's personal waiter. This ipad restaurant ordering system manages all touch points from the time your guests enter the restaurant to when they leave. It even allows customers to give feedback directly from the table.
The third tool in TabSquare's suite - SmartWeb is a perfect companion to the other two in-restaurant solutions. It puts your restaurant in your diners' pocket by allowing the full dining journey from pre-ordering through to loyalty on their mobile device. No app download is required for this online ordering system, giving diners a smooth, personalised dining experience. It allows venues to drive impulse purchases and add-on sales to lift average check value.
What are you waiting for?
Find out how TabSquare can power the future of your

restaurant by

clicking here.
About TabSquare
TabSquare provides AI-Powered 'Smart' In-Restaurant solutions to the F&B industry that leverage rich consumer data and deep learning algorithms to provide an engaging dining experience for restaurants' diners and helps to double restaurants' profitability. TabSquare's solutions currently collect over 30 million customer interaction data points on monthly basis. With a unique data-driven approach to restaurant management and customer engagement, TabSquare helps partner restaurants drive higher sales, seamless operations, and provide a better customer experience. A market leader in Singapore with customers in Australia, Malaysia, Indonesia, Thailand, Hong Kong, and Japan. TabSquare serves over 75 F&B brands in over 300 locations including well-known brands like Sushi Tei, Minor Food Group, Japan Food Holdings, Creative Eateries, Paradise Group, Far East Hospitality, Zingrill Holdings, Tadcaster Hospitality, and Hilton.