It is no surprise that labour costs in any industry have a great impact on overall revenue, often the highest cost aside from rent or mortgage. On average, labour costs can account for 30% of total revenue. This of course varies depending on the type of industry you operate in. With respect to the food and beverage (F&B) industry, restaurant owners try and keep their labour overhead between the 20% to 30% mark.
Typically, casual dining and fast food outlets enjoy smaller a labour overhead than that of full-service restaurants including fine dining and luxury restaurants. Often in full-service restaurants, more staff are employed to provide superior service, from setting up the table, walking customers through the menu and providing ongoing assistance wherever they can.
Throughout this article you will learn about how much labour can actually cost your business with a case study example. From there, you will learn some tips on how to reduce these costs, in turn, improve your bottom line performance.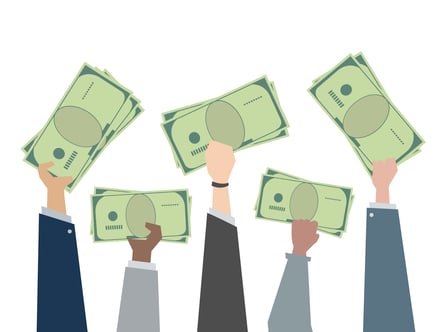 One of the key metrics to determine a restaurant's efficiency is your prime cost.
What is a prime cost?
Your prime cost is the Cost Of Goods Sold (COGS) in addition to total labour expenses.
Prime Cost = Total COGS + Total Labour
What are your COGS?
COGS are described by Investopedia as 'the direct costs attributable to the production of the goods sold in a company'.
A restaurant or QSR's COGS can include;
Cost of ingredients
Costs of drinks
Cost of containers or packages needed to sell the food
Cost of Goods Sold (COGS) = Beginning Inventory + Purchased Inventory – Ending Inventory


What are your labour costs?
Labour costs can include;
Standard pay
Penalty rates
Benefits
Taxes
Overtime
Bonuses
Health Care
Sick leave
Holiday leave


How Much Does Labour Cost In The F&B Industry?
To calculate labour costs, you need to consider the number of staff members required, the hours they will work and the respective amounts they need to be paid.
Number of staff members
Firstly, you need to determine the number of staff members you will need in your venue to ensure smooth operations.
The amount of staff members you need on the floor depends on a number of factors. These factors include; the number of customers you will be serving, preparation and cooking time of meals, whether the venue is self-service, counter service or table service. Of course, the actual figures will differ depending on unique venue needs, however, to illustrate this let's take a look at the example below.
Case example: Table service, casual dining restaurant.
Total number of tables: 40
Operating hours: 11:30am-10pm
Peak: Lunch rush – 12pm-1:30pm
Peak Dinner rush - 5:30pm-8:30pm
30 tables full
Peak Period: 4.5 hours total
Non-Peak: 11:30am-12pm, 1:30pm-5:30pm, 8:30pm-10pm
15 tables full
Non-Peak period: 6 hours total
Staff needed for a casual restaurant;
Front of house (FOH): 1 staff serving 7 tables
Back of House (BOH): 1 staff preparing meals for 12 tables

Peak time
FOH: 4.25 staff
BOH: 2.5 staff
Total staff required in peak time: 6.75 staff
Duration of hours: 4.5 hours
Non peak time
FOH: 2 staff
BOH: 1.25 staff
Total staff required in non-peak time: 3.25 staff
Duration of hours: 6 hours
So now that we know how many staff our restaurant needs, how do we determine how much to pay them?
How much staff members need to be paid.
Restaurants, Cafes and Fast Food outlets are covered by Industry Awards. The Fair Work Ombudsman has put together an interactive version of the Restaurant Industry Award and the Fast Food Industry Award. Although quite similar in terms of wages, hours, allowances and entitlements, the Fast Food Industry Award hourly rates are slightly higher across full-time, part-time and casual employees across all experience levels.
Let's calculate the respective costs for our restaurant example above
We will assume that the 3.25 staff utilised in non-peak time are our full-time staff. The additional 3.5 staff members that are required to fulfil the lunch and dinner rush can be considered as our part timers. All of our staff are at experience level 3 and are aged 20+ (Reference Restaurant Industry Award).
Full Timer
Hourly Rates
Weekday: $21.54
Saturday: $26.93
Sunday: $32.31
1 staff: $947.76 per week
Total weekly full-time wage for 3.25 staff: $3,080.22
(calculation assuming rotating roster working 4 weekdays and 1 Sunday shift, working 8 hours per day)

Casual
Hourly Rates
Weekday: $26.93
Saturday: $32.31
Sunday: $37.70
3.5 additional staff needed to fulfil the 4.5-hour peak period per day.
Weekday:
1 staff/weekday: $121.19
3.5 staff/weekday: $424.15
3.5 staff x 5 weekdays: $2,120.75
Saturday:
1 staff/Saturday: $145.40
3.5 staff/ Saturday: $508.90
Sunday
1 staff/Sunday: $169.7
3.5 staff/ Sunday: $593.95
Total casual weekly wage for 3.5 staff: $3,223.60
Total Standard Weekly Wage Costs: $6,303.82
(non-inclusive of additional benefits, payroll taxes, bonuses etc)
If we look at these costs across the year, they really do stack up.
Reaching a whopping $327,799 for the year.
Now if this cost scares you, let's take a look at how we can reduce it!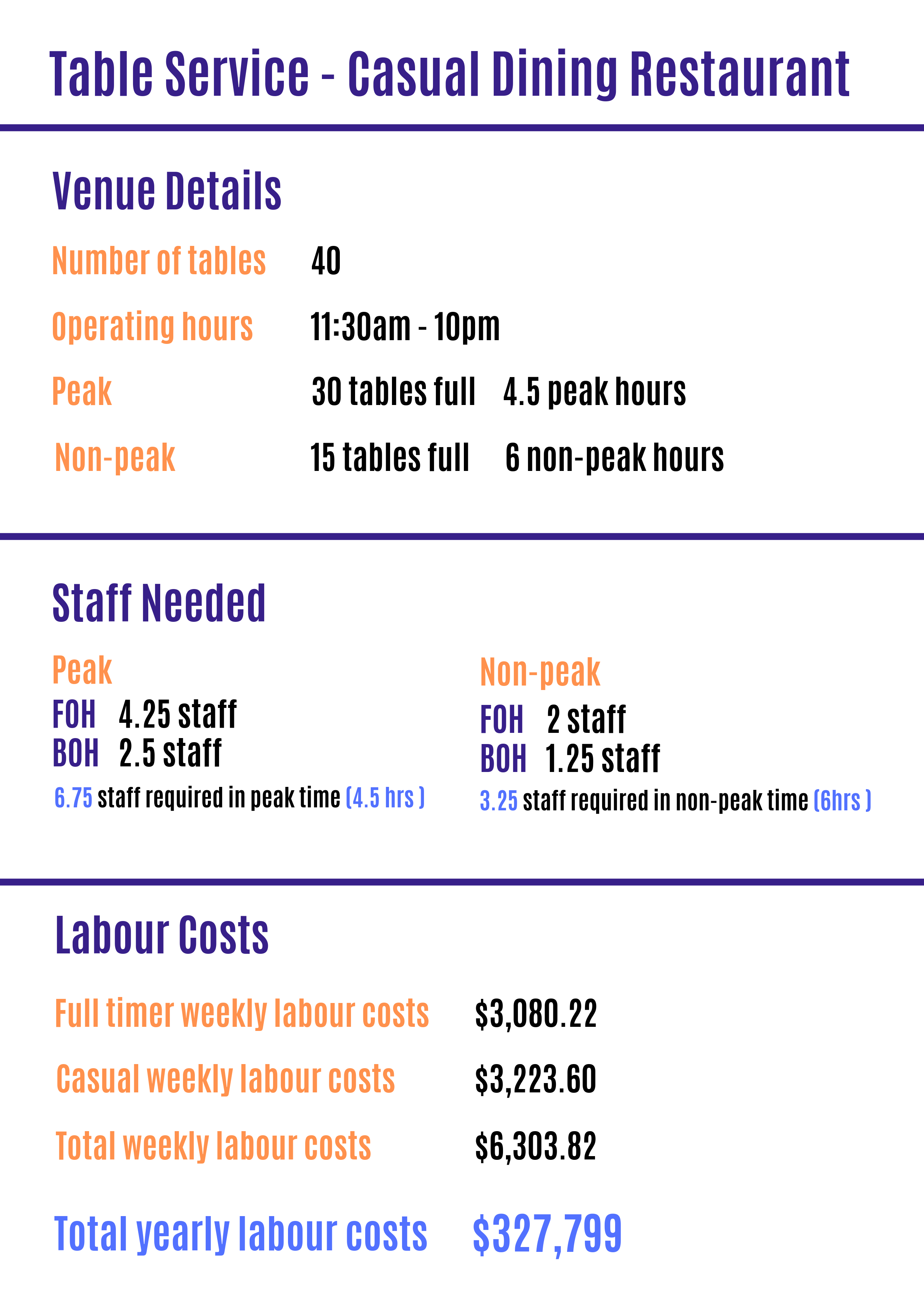 3 Ways To Reduce Labour Costs & Improve Your Bottom-Line Performance

There are a variety of ways to reduce labour costs and increase your bottom-line performance. The savings may not happen overnight, however if you make a conscious effort to follow some of the below steps, you will see a significant positive impact on your bottom line.
Reduce turnover
As a business owner, you need to do your very best to ensure you are keeping your staff not only motivated, but happy. Providing a good work culture, fulfilling work and an environment that your staff like to come to will not only keep employees happy, it will help you reduce staff turnover, which is a significant cost to any business.
Some of the ways you can reduce staff turnover include;
Hire the right people- You have a better chance of retaining your staff if you hire people whose goals and values align with the business.
Allow flexible working arrangements- Work-life balance is imperative. Especially for those in the F&B industry, often working most weekends. Although weekends are typically the busiest periods, it goes a long way to give staff members the option to take a day off over the weekend if they need it for special occasions. This type of flexibility will be greatly appreciated by all staff members, and will allow those that require the extra money to step up and enjoy the weekend penalty rates.
Offer competitive pay and benefits- Pay is a large factor for majority of employees. If you aren't adequately paying staff, what is to stop them from jumping ship and finding employment elsewhere?
Offer Career progression- Most people have the desire to grow. It is important that business owners show their staff that there is room for movement with good performance, motivation and dedication. Whether that be offering more hours to casual staff seeking more work, lifting pay or being promoted into a higher position.
Appreciate your employees- A nice comment can mean so much to an employee. Positive words affirming good work can make employees happier and more motivated to do better.
Keeping the staff that you have happy will eliminate the number of staff members that part ways with the business. Costs of turnover, including finding and training new staff members can become very high. Not to mention the period of inefficiency during the time where new starters filling positions are still learning. Reducing the costs involved with turnover can help you keep money in your pocket.
TabSquare provides self-ordering solutions that empower staff members to learn a new technology. It allows staff to not only teach customers how to place orders on their own, it also enables them to understand the data that comes from their menu. Learning a new technology and building transferable skills is something that staff members will value. Moreover, adopting a self-ordering solution will give time back to staff members to focus on more value adding tasks like building relationships with customers. Rather than a sole focus on routine tasks like taking orders the whole shift. This will make the time spent at work feel more fulfilling.
Reduce overtime costs with cross-training
Overtime costs aren't always due to a shortage in labour. One of the prime reasons employers pay overtime is due to a shortage of skills a particular person possesses. If for example there is one chef on that is scheduled to finish at 8pm, and two service staff that have no cooking training that are scheduled to finish at 10pm, the two service staff cannot fill the chefs responsibilities. This means that another part time chef will need to be rostered on for the remainder of the shift, or the chef will need to be paid overtime to stay additional hours.
One way to combat this is by cross-training staff members so they can all have relevant skills. Investing in training staff shows that you are investing in them, which can lead to promotions down the line. Having a team with multiple skills can reduce the need to pay overtime and also give the employer the power to send staff members home during quiet periods when others have the skills to keep operations running smoothly.
Invest in technology
People have come to expect that technology will improve the way they complete every day tasks. Customers want pleasant dining experiences made possible with the convenience technology provides. Investing in technology is no longer a luxury, it is imperative to remain competitive and keep your customers happy. Technology itself has the power to reduce labour overhead and provide other additional benefits to business owners.
Some of the restaurant technology options include;
Online booking platforms- To improve booking efficiency, allowing staff to focus on other tasks.
Inventory management- To help monitor stock levels and reduce wastage.
Scheduling software- Helping you allocate human resources adequately and eliminate overspend in labour costs.
Self-Ordering solutions- Allowing you to cut labour overhead and allow them to focus on customer experience.
Self-ordering solutions have become prominent in the F&B landscape. This type of technology includes; kiosks, tablets, web ordering, app ordering, and QR code ordering. All of the solutions are unique and adoption depends on the type of venue being run.
Some of the benefits self-ordering solutions can provide include;
Decrease labour costs- When customers order themselves, it reduces the reliance on staff to take their orders which can significantly reduce costs. Moreover, they can focus on more value adding tasks such as building relationships with customers.
Cutting back wrong orders and waste- When the customer is placing orders themselves, there is little to no room for ordering error. Simultaneously reducing waste and saves money.
Streamlining operations- Self-ordering solutions can help make the operations and ordering process smoother. Reducing long lines and customer wait times makes operations easier for staff and enhances the experience for the customer.
_________
Tabsquare offers three self-ordering solutions that can help you take your venue to new heights and increase your bottom-line performance. These solutions include; SmartKiosk, SmartWeb and SmartTab.
Some of the benefits Tabsquare's solution provides include;
Average 20% increase in average bill value (ABV)
Up to 30% reduction in labour costs
Zero wrong orders
Streamlining operations & reducing wait times and lines
Capabilities to increase customer satisfaction
And many more!
Here at TabSquare, we see how our solution can help our clients achieve their unique goals and improve their bottom-line performance. Whether that be improving customer experience, increasing revenue, decreasing labour overhead or more, we are here to help you reach your goals.
If you would like to learn more, check out the Hokkaido-Ya Testimonial and case study to see the unique benefits the TabSquare solution provides. If you are ready to start working on improving your bottom-line and would like to know more about if our solution can help you reduce labour costs, contact us today for a free demo!