In your time scrolling through the internet, we are certain that you have come across some poor restaurant reviews and overall bad dining experiences from frustrated customers that take it to their keyboards to vent. A bad meal isn't the only factor that constitutes to a bad restaurant experience. Let's dive in and see what customers biggest pet peeves are and how they can result in subpar dining experiences.
The 6 Biggest Pet Peeves Diners Have
1. What You Want To Order Isn't Available
There is nothing worse than taking your time looking into every single part of the menu, finally choosing your meal, only to find out that the meal you want to eat is no longer available. That false sense of hope in getting a meal that should be available but isn't, is something that customers do not like. What this means for the customer is that they need to look through the menu again. This takes time and is particularly annoying, especially if everyone else on the table has ordered meals that have already started being prepared. This leaves one customer without food when everyone else is eating.
The TabSquare solution allows restaurant owners and servers to simply switch off menu items that are no longer available. This can be done on the content management system (CMS) or by switching a menu item off on the device itself. Whether seasonal toppings are not in stock, a main ingredient delivery did not arrive or there was an influx in orders of a particular meal resulting in it not being available, turning off menu items is made easy, alleviating giving customers a false sense of hope and the corresponding frustration.
2. Inconsistent Customer Service
Sometimes servers face their own stresses at work, between busy periods and difficult customers, it is not always easy for them. Nonetheless, servers are the face of a restaurant, and good customer service is imperative for happy repeat customers. Widespread restaurant reviews detail unsatisfied customers that have had rude, unhelpful or inattentive servers.
The TabSquare solution allows customers to order directly on interactive, personalised menus. This takes away from the stress that servers face when they need to attend to multiple tables and customers at one time. It gives servers the chance to focus on other aspects of their job, such as greeting customers, keeping the venue clean and presentable and providing value by helping customers and answering any questions they may have.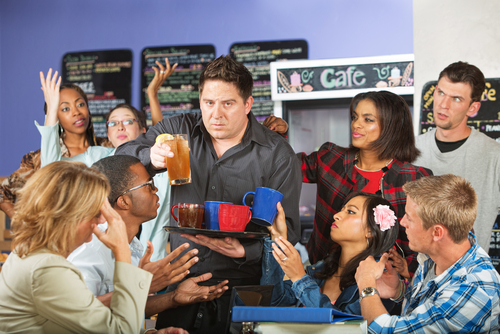 3. No Meal Recommendations
Customers don't always know what the better meals on the menu are, especially if they have never eaten there before. Customers value suggestions from servers as it helps them with their purchase decision and reduces their fear of ordering wrong. This service is often available at fine dining restaurants, however, isn't always the case for fast food, cafes or casual dining.
TabSquare's AI driven restaurant solutions allow the menu to tailor according to individual customers taste preferences. The more customers order, the smarter the solution gets, resulting in more accurate meal recommendations and meal pairings. Not only does this make ordering easier for the customer, it improves the chance of ordering something that they will enjoy, eliminating the chances that they will be unsatisfied with their meal. And the best part? This can all be done without having to interact and take up staff members time.
4. Language Barriers & Wrong Orders
Barriers of communication between servers and customers is often a problem in the food and beverage industry. Whether a customer is travelling and is somewhere where the servers native tongue is different to that of their own. Or the servers are foreigners, sometimes language barriers are present and can make the dining experience less than favourable due do the difficulty communicating.
Communication barriers can disrupt the flow of operation and can result in wrong orders being placed. There is nothing worse for the customer than waiting for their meal, only to have it come and not be what they ordered. Communication barriers play a large part in wrong orders, and contribute to food wastage.
In a bid to reduce language barriers and food wastage, TabSquare's solution has multilingual capabilities. Menus are altered to reflect the customers preferred language to view the menu in. Not only does this make the ordering process easier, it reduces the chances for wrong orders to be made, as the customers themselves places the order, in the language they are most comfortable with.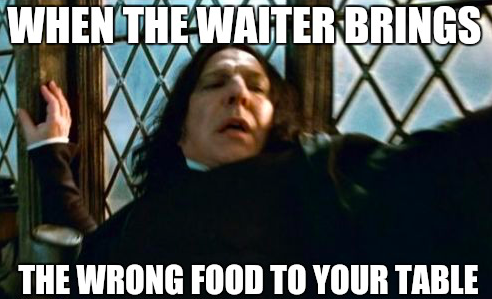 5. Waiting
People are busy, and simply do not value waiting. Whether waiting in line to order, waiting for a servers attention, waiting for food to arrive or waiting for the bill, customers simply do not enjoy waiting around. It is a common fact that we fear the unknown, which can directly be related to why people don't like to wait, as they don't know exactly how long they will be waiting for.
Although the TabSquare solution doesn't have the ability to make food cook faster, what we can do is streamline operations to allow for optimal customer experiences. Our solution has the ability to add on features such as 'call waiter', 'request bill' or 'request cutlery'. This allows the customer to receive what they need at a faster rate rather than having to wave down a server and get frustrated.
6. Feel Embarrassed To Order More
Customers often feel embarrassed when they have to ask for out of the ordinary customisations as they may feel like they are either being an inconvenience for requesting these changes, or fear that their taste palette may be weird. Think of the pineapple on pizza debate.. Some customers may not feel comfortable ordering that extra pineapple with a server or may feel insecure to order extra sides or dessert after the meal.
The Tabsquare solution eliminates the potential for embarrassment as it allows customers to order on their own. No matter how much or how little the customer decides to order, they will feel comfortable in placing orders.
Final Thoughts
Restaurant owners need to understand the key pet peeves customers face during their dining experience. Knowledge is power and being aware of the key factors affecting a good customer experience can put you one step closer to achieving optimal service and enhanced customer satisfaction. Check out our post on how to create satisfied returning customers here.
If you would like to hear more about how the TabSquare solution can help you offer an optimal experience for your customers, you can contact us today check out our case study and white paper where we dive into more detail.