AI (Artificial Intelligence) is widely used in our lives these days. When was the last time you called Siri or Alexa to play your favorite song? How often does Netflix and Spotify recommend new songs and movies that just so happen to suit your preferences? These solutions along with many others use machine learning to understand more about their customers and consumers, to better predict ordering patterns to deliver the right products, services and best customer experience.
Today, a growing number of restaurants and food service operators are using AI to deliver that high quality customer experience to diners, as they are coming to expect more than just the norm. Restaurant owners are also benefiting from this technology to reduce wastage, solve staffing issues and increase margins.
The following article looks at key applications of machine learning and other significant trends in food service.
Artificial intelligence (AI)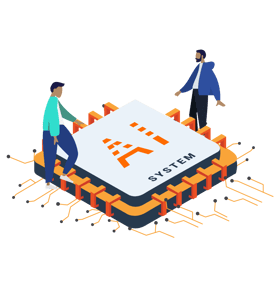 Food delivery platforms are using AI
The latest Eating Out in Australia publication reveals that Australians love ordering take-away food. On average, people made 65 delivery transactions per person in 2019 and annually totaling to 1.6 billion. Most of these orders are placed using clever food delivery apps like UberEATS, Deliveroo, Menulog and EatNow. Restaurant Dive found that third-party apps in America make up for 40% of the 20 most-used apps in 2019. Since 2013, digital food orders have been annually growing with 23% every year and in 2020 the current number is expected to triple in volume. In Australia, you'll find the same trend. According to news.com.au, food delivery services were worth 12% of sales in the cafe, restaurant and takeaway food services industry in 2018. The industry was worth a total of $44.1 billion last year.
Though many order their food and/or groceries online these days, food delivery is especially popular among millennials. By 2020, 21 to 36 years old will take up 70% of at-home delivery services. With so many food orders made every day, you can get a great sense of what people love to eat. You can also analyze how often and around what time they get hungry, and whether that meal contains meat or is vegan or vegetarian. With delivery app data, it's easy to spot tendencies in what particular type of foods are loved and if that is related to a certain gender, age or location.
AI applications in restaurants
Restaurants can give recommendations based on best-selling menu items, or use customer's order history for upselling. These options could take into account customer's preferences, but also dietary restrictions and budget.The ability to predict and create personalised dining experiences for each customer is one of the key benefits AI provides.
Companies such as TabSquare have been utilising AI to tailor menus based on individual customers purchase behaviour. Imagine being a pescatarian and picking out a menu that is completely aligned with your dietary requirements. AI also has the power to make suggestions based on the time of day and the weather. It is unlikely a customer would enjoy the suggestion of a bacon and egg roll at dinner or an iced coffee on a cold rainy day. These smart suggestions do not only provide convenience, it makes the overall experience better for the customer. Moreover, reduces the need for service staff to make suggestions, lessening the reliance on staff which enables labour costs to be reduced. By tracking repeat orders, businesses can potentially tag on a reward program to further incentivise regular diners.
When using AI in your food business, you can:
Let customers have more control over their order
Offer personalised recommendations and upsells
Reduce errors by having customers directly place the order themselves
Cut costs by having AI take over manual labor
Gather data for future marketing purposes
Improve the guest experience by offering a more tailored and on-point service
Learn more about the benefits of AI for your unique venue by locking in an obligation free demo with TabSquare today!
AI in drive-thru restaurants
Big players in the QSR space such as McDonalds and Good Times Burger are taking the leap into the AI space. They are purchasing machine learning, AI technology, to be used in their drive-thru windows.
The addition will drive efficiency as customers will not take as long to order when accurate suggestions are presented. It will also boost revenue with accurate suggestions and capacity to alleviate the need for staff members to up-sell.
Key features of AI in drive-thru
Complementary food pairings based on customers' orders
Weather based suggestions
Time of day based suggestions
Local Events
Traffic levels at the venue
Licence plate recognition
Menu Engineering
To successfully engineer your menu, you should be considering the profitability and popularity of menu items. These two factors will be the core deciding factors that influence when particular items and categories are placed. The goal of menu engineering is to place items menu items in prime positions. When done correctly, revenue is boosted and items that need to be sold within a particular time frame are sold.
The top of the menu is the section that has the highest clicks and respective orders, this means you must carefully select which menu items are positioned in this prime space.
Good items to place at the top of the menu include;
Menu items with high margins
Menu items that need to be sold fast
Promotions
Best sellers (sometimes)
Factors to consider when changing the layout of your menu
High profit margin items- you must consider the profit margins of each item. There is no point in heavily promoting or giving a menu item with low profit margins the top space on your menu
Which items need to sell fast- with menu engineering you can place your most perishable items, or those that you need to sell most of at the top of your menu
Guaranteed sellers- If you know an item is going to sell irrespective of where they are on the menu, it is best you don't give them prime real estate at the top of the menu. Think fries at a burger joint or rice at a Chinese restaurant, the likelihood is that these items would sell in a high quantity already. This means you do not need to put them in a best seller category up the top of your menu.
Of course, when there is a paper menu involved, it can be quite costly to make these updates, especially when there are multiple venues and seasonal changes. Menu engineering is made easier when on a digital menu. Often, this can mean that changes are made from a central location and there is ease in making adaptations fast, without the requirement to fork out on printing costs.
Find out how TabSquare's account management team help restaurant owners gain valuable skills to increase revenue such as menu engineering here!
Self-Ordering Solutions
As of late, there has been wide-spread self ordering solutions entering the F&B market. Self Ordering solutions include;
Kiosks
On table tablets
App ordering
Mobile ordering
QR code ordering
All of the solutions are unique and adoption depends on the type of venue being run. For example, it would not be optimal to have on table tablets for a fast food outlet that typically has more customers ordering and eating elsewhere, instead a kiosk solution would be the best fit.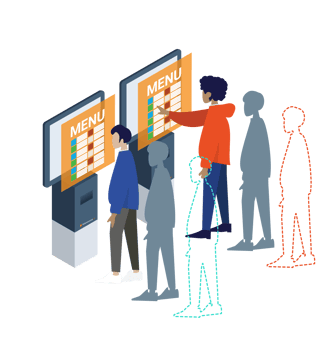 Some of the overarching benefits these solutions provide include;
Reduction in labour costs- putting the ordering in the hands of the customer alleviates the time service staff need to take orders which can significantly reduce labour costs. Moreover, they can focus on more value adding tasks such as building relationships with customers.
Reduction in wrong orders and waste- when the customer is placing orders themselves, the middleman communication between the customer and Point Of Sale is eliminated. Reducing risk of wrong orders and in turn reducing waste.
Streamlining operations- implementing self-ordering solutions can help make the operations and ordering process smoother. Reducing long lines and customer wait times makes operations easier for staff and enhances the experience for the customer.
Innovative food solutions to deliver quality and consistency amid skills shortage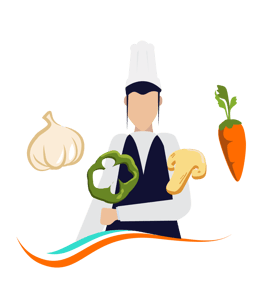 Australia is facing a shortage of skilled cooks and chefs to bolster its diverse food industry. Deloitte Access Economics' Australian Tourism Labour Force Report 2015-2020 reveals a dramatic increase in hospitality businesses suffering skills shortages to 69 per cent of all surveyed, with a predicted 123,000-worker shortfall to hit the industry by 2020 as the cherry on top (there are a total of 853,000 people currently in the tourism and hospitality labour market).
In this climate restaurants and food operators need to maintain their target audience, by offering quality menu items that deliver margins due to the complicated procedures involved in preparation, variety of ingredients and reliance on electricity for heating and cooling when put together. At the same time, they are a necessary part of a menu, especially in an age where young diners Instagram their entire dining experience. To help operators, Nestlé Professional has innovated a wide range of simple food solutions for back of house staff to use. Desserts generally have lower margins due to the complicated procedures involved in preparation, variety of ingredients and reliance on electricity for heating and cooling when put together. At the same time, they are a necessary part of a menu, especially in an age where young diners Instagram their entire dining experience
The Nestlé Docello range comprises of a high quality range of easy to make dessert products that can help restaurateurs boost their margins in this difficult category of menu items. These include options such as Panna Cotta, Mousse, Crème Brulee among others that can be quickly prepared and delivered to the table by anyone with a basic culinary skill set.
_____
To find out how you can deliver quality and consistency with culinary aids contact Nestle Professional!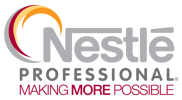 To learn more about AI-powered, self-ordering solutions, contact TabSquare today here! Join other F&B businesses that are seeing significant benefits from the latest that technology has to offer.