Killiney Kopitiam is a casual dining restaurant serving up delicious Singaporean street food classics. You may be familiar with their famous Kaya toast, soft boiled eggs and coffee! Back in 1919, Killiney's first store opened in Singapore. Since then, over 90 locations have been opened globally. Killiney first franchised in Australia at Carlton, Victoria and they now have 3 outlets in Australia across NSW & VIC with their next site set to launch on the 12th December 2019 at level 6, Pitt Street Mall Westfield.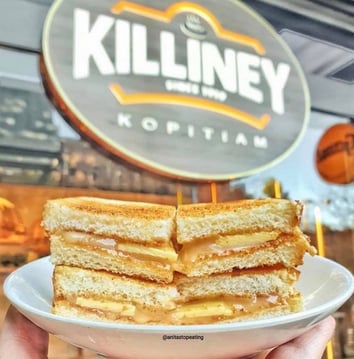 Photo Credit: @anitastopeating
With the goals to further expand in the Australian market, increase revenue and give time back to their service staff to improve customer relationships, Killiney has implemented TabSquare.AI's SmartKiosk solution.
Winnie and Indra, the Master Franchisors in Australia have provided feedback that their customers find the kiosk solution easy to use due to the user-friendly interface. This has resulted in a reduction in manpower as the ordering is now in the hands of the customers themselves. This has also alleviated long lines and wait times for the customers, enhancing their experiences and streamlining venue operations.
Key benefits Killiney is enjoying due to TabSquare.AI's Smart Kiosk solution
Menu Engineering Capabilities
Killiney has been experiencing the benefits of menu engineering capabilities. This has allowed them to reduce wastage in their venue. How? You may be thinking – By pushing and promoting those items that need to be sold within a particular timeframe or those with higher margins, Killiney has been able to enjoy reductions in food waste and in turn, increase revenue.
TabSquare.AI's Ongoing Support
Here at TabSquare.AI, we offer ongoing support to our valued clients. Killiney has commented that our team has been helpful in the integration process and beyond. Our Customer Success Partners are continually teaching clients how to make the most of the rich data the solution provides. Moreover, how to use these valuable insights to make the menu perform better to drive higher revenue and create a better customer experience.
Increase In Average Bill Value (ABV)
Our results show that customers often order less when ordering with a staff member. Results indicate, there is a significant increase in ABV when ordering on a device. On average, TabSquare.AI's solution increases ABV by 20%. In Killiney's case, upselling and cross-selling alone generated 10% of the overall sales impact through the kiosk. The AI component of the solution has allowed tailored promotions according to individual taste preferences to be created. This means that customers are more open to trying new things, effectively leading them to ordering more.
As 70% of orders go through the Kiosk, Killiney's staff members can concentrate on building relationships and interacting with customers as they are no longer required to focus on simply taking orders. This helps the team get to know their customers, in turn, keeping them coming back. Also, 50% of these customers identify themselves by entering in their details, these customers spend higher on average due to the activation of a personally relevant menu.
"TabSquare.AI changes the way our customers interact with the restaurant by using their artificial intelligence platform. It has provided us with an efficient and smarter work flow hence savings man power. Also, Excellent customer service and support!" Winnie & Indra - Master Franchisors Australia
TabSquare.AI's AI driven, personalised selling has helped Killiney boost sales, save on manpower and reduce wastage. This has ultimately improved their bottom-line performance, providing them with more money to invest in other aspects of the business such as growing Killiney Kopitiam.

Do you want to learn more about how self-ordering solutions can benefit your venue? Check out the Killiney's video testimonial here or our white paper to learn more about the solution. If you're ready to take the next step into the self-ordering revolution, you can contact us for a demo.
Don't forget to check out your local Killiney Kopitiam restaurant for tasty Singaporean Street Food! And be sure to keep an eye out for Killiney's Pitt Street Mall site launch on the 12th of December!